Dear Garden waste member,

We are sorry that garden waste collections had to be suspended from Monday 30 March. This difficult decision was made due to the levels of COVID-19 related absence within our teams. Suspending the service allowed us to continue delivering essential services, such as household waste collections, as well as support vulnerable residents and local businesses.
To thank you for your patience, and as compensation for the disruption to your service, we are reducing the cost of your next garden waste renewal by £20 per bin. Please note that you do not need to take any action as this amount will be automatically deducted from the cost of your annual membership when you renew.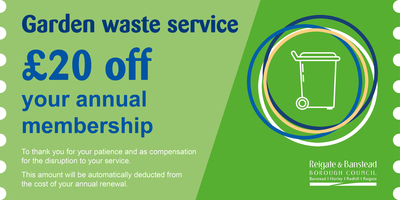 Please be reassured that we are committed to resuming the garden waste service as soon as we safely can without impacting other waste collection services. We will contact you again to confirm this date. For the most up to date information about all Council services please visit reigate-banstead.gov.uk/coronavirus.
If you are considering composting your garden waste while the collections are suspended you can find lots of advice on the Surrey Environment Partnership website. We are asking residents not to light bonfires during the coronavirus pandemic. COVID-19 can affect the chest and if residents are exposed to bonfire smoke it may make their symptoms worse.
Kind regards,

Garden waste team
Email: rc@reigate-banstead.gov.uk